The only backpacking cookware is titanium cookware
Backpacking cookware are items of the outmost importance and they usually make the top list of priorities that backpackers have to deal with in order to win their ongoing eternal fight with weight. If it doesn't seem that important to you, you probably have never tried backpacking.


You know, backpacking can be a lot of fun. Our modern lifestyle, surrounded by concrete and steel with electromagnetic fields all generated by the various electronic appliances that surround us is more stressful and tiresome than you may think.
That's why few days away from the sounds and the city, traveling in a picturesque landscape, with only fresh grass and strong trees in sight, without the constant tire screeching and honking of automobiles is something that is never forget.
The problems arise at sunset. As stressful as a city can be, it was built in order to provide shelter, food and entertainment for the people. When backpacking, you have to carry the means to provide all these on your back. And there is a physical limit to what a human being is able to carry. Moreover, the lightest the backpack, the more enjoyable is the backpacking.
Backpacking cookware occupies a sizeable percentage of the already limited space that you're able to carry in a camping trip. It's true that cookware is not critical. You can cook in containers made of birch bark by folding it into something like a bread pan. There are two methods. One is to drop fire-heated rocks into the liquid to bring it to a boil. The other is to use the pot directly over the flame. If the flame doesn't go above the level of the liquid, the pot birch bark pot won't burn, because the heat is conducted away quickly by the liquid inside.
But we are not as resistant as our ancestors used to be (or as titanium). Our bodies have softened during the generations they have been fed with carefully baked, boiled and fried food and a leap as big as the one described above may prove too much for them. You won't die, but you can be sure that your backpacking trip is going to end abruptly with a visit to the nearest hospital.
In order to circumvent such an unwanted possibility you have to carry some backpacking cookware with you. Now that we established this let's how this backpacking cookware has to be in order to make your trip safe and enjoyable.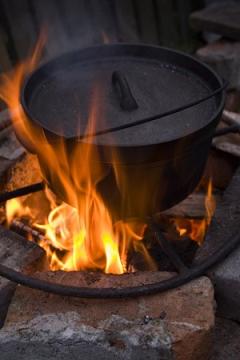 First, your cookware needs to be as light and as compact as possible. Obviously, you're not going to take your pressure vessel with you, nor your king-size oven griddle pan, but you need at least a frying pan and a normal boiling pot. Did I mention that titanium is light? Second, your backpacking cookware needs to have some durability. You will not cook in the kitchen, over an electrical machine, but rather directly over the fire, and seldom will the pan stay on the rocks. And you need to cook more than once. Not to mention that backpacking often means crossing rivers, climbing rocks, which leads to some unforgiving hits that your cookware will take during the day.
I think it's clear this rules aluminum out, and, did I mention that titanium has the greatest strength to weight ratio from all metals?

Third, your cookware needs to have some corrosion resistance. When backpacking, you wont' have the means (nor the will) to thoroughly wash your dishes. And for certainly you won't carry any chemical adjutants that are commonly found near your sink. You'll have to do the dishes with fresh water only (and even this may prove hard to find in some situations). Obviously, this is not the best method possible and will prove harsh on your cookware. That is, if it's not made out from a naturally corrosion resistant metal such as titanium.


Return from Backpacking Cookware to Titanium Cookware
Return to Titanium Home Page