What amorphophallus titanium, Yuri Gagarin and the kitchen have in common?
Amorphophallus titanium, though it may sound kind of Greek at the first hearing, could easily mistaken as one of the many titanium alloys currently in development, as engineers and chief scientists aren't exactly renowned for their ability of finding easy to use and remember, popular names. Probably they have better ways of using their creativity and ingeniousity. I think it's a good trade off, for, if it wasn't for those somewhat spooky guys, silently working in hidden laboratories (made out by titanium, of course !) we wouldn't enjoy many of the things that make life easier to tackle - you know, microwaves, air conditioning and Iphones.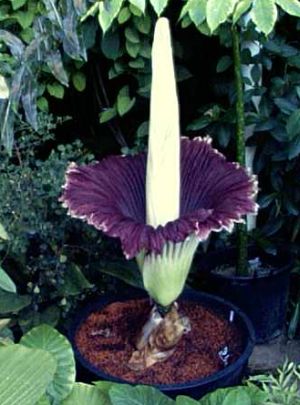 Amorphophallus titanium is actually a plant. Yes, you read a correctly. A non-sentient organic structure capable of photosinthesys. It has no connection whatsoever with titanium metal, other that the fact they share a common naming path – in fact, the correct term is titanum. Its name derives from Ancient Greek amorphos, "without form, misshapen" and phallus, "penis", and titan, "giant". In the following picture you can see why this rather, let's say at least rather peculiar, name was chosen. Besides the fact that has one of the greatest bloom of all plants in the world – hence the "Titan" name, and wields a rather nasty fragrance, there really is no more to be said about this vegetable, as of titanium perspective.

Titanium has gained a strong cultural presence and, mainly because of its unique properties, will likely keep its value as a brand, designating strength, might and durability for many decades for now on. Several titanium urban myths have appeared.There are even elaborate scientific scams designed in order to sale some products that claim to miraculously solve many human problems - the best known is probably Phiten USA.

There are also many legit producers that add "Titanium" to the name of their products in order to take advantage of the common perception associated with the meaning. Some of them actually dominate their specific markets, by trying to make their products as close as possible to what people expect to find when hearing "titanium". Titanium fifth wheels are one of the most relevant examples of this aspect. Columbia titanium jacket is a flagship product for Columbia company, without actually be made of titanium, though some titanium compounds may be involved in the waterproofing of their fabrics.

Titanium has become a common reference to many aspects of the human culture. Yuri Gagarin, amorphophallus titanium and the kitchen have in common this metal, the plant through the name that I mentioned, Yuri Gagarin because it has a statue made of titanium, erected in his recognition of being the first man in space, and in the kitchen you can find the titanium spork – something that some people cannot live without, and which is used to serve toast titanium.

The prominence of titanium in our culture is also reflected by increasing number of chemistry jokes about titanium that are circulating and it represents a strong marker about what this metal is and what will become in the near future. In "Unbreakable", Elijah Price said that comic books are the history fingerprints of our time. I don't know if this is true, but there is already a Titanium Man action hero - though a villain - that makes an appearance in Marvel comic's universe.

If you would like to know more about titanium and its miraculous properties, use the below form to subscribe to Titanium Only the one and only e-zine about titanium. It is published monthly and it has lots of fun stuff and up-to-date info about the glamour metal.


Return from Amorphophallus titanium to Titanium Home Page