Cheap titanium rings – an analysis on the cost of titanium jewelry
Cheap titanium rings is a concept born from titanium's entry in the jewelry sector. Titanium jewelry is thought by many to be the fastest growing sector in the jewelry market. Growth is a good thing, but sometimes it leads to some strange happenings.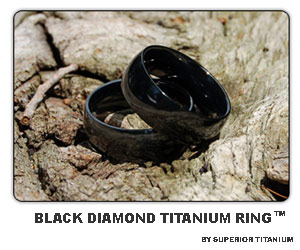 As the truth is our best friend, we should note that, even if titanium has a strong growth, it will be a long way until it threatens the dominant position of gold, platinum and silver.
I don't have the exact figures right now, but from what I recollect the use of titanium in jewelry, expressed as the quantity of the metal and as the total income derived from selling finished items was measured to be around 2 or 3% of the total market value.
As for the price, the concept "cheap titanium rings" is a double positive statement, because, compared to a gold or platinum ring, a titanium ring could not be anything but cheap.

If you looked for a ring that would be cheaper than the already cheap titanium ring, it would make you, err…kinda cheap.
The price of gold is at present around $900 per ounce, while the platinum can reach an astounding high of $2,000 per ounce. On the cheaper side, titanium is merely 11$ a pound. Given this figures, you may wonder why the heck titanium ring are so expensive, because you could easily pay as much as 100$ for a plain titanium ring, going to as much as five or six hundreds for the more intricate designs.
A part of the explanation would be in the difficulty of machining titanium. While gold's low melting point allows jewelry artisan to cast gold rings at will, titanium special properties make it a lot harder (and expensive) to produce quality designs. This increases tenfold with the complexity of the models, making state-of-the-art, modern and sophisticated jewelry really worth their price.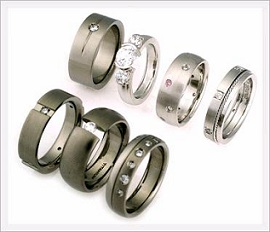 Not to mention that there is not much to add to the gold jewelry production process. I'm sure it had some modifications, but it's been around since the ancient ages, so they surely must know almost everything there is to know about gold casting, alloying and finishing.
This is not the case of titanium metal. Funding is absolutely required to researching new alloying possibilities, new colors or, why not, to develop more cheap titanium rings.
As an example, a comparison of three similar rings, identical in width but varying in metal base can range from less than $100 for titanium or tungsten all the way up to $1400 for platinum.
Given the current international financial crisis, there are many people that want to look nice and trendy, but cannot afford or simply don't wish to spend that kind of money on a piece of jewelry.
As a conclusion, it is actually very easy to find cheap titanium rings on-line. Actually, it will prove more difficult to find quality, sophisticated and expensive titanium rings, given the market flood coming from certain small producers. There is no need to worry, though; there certainly is a titanium ring for everybody.


Return from Cheap titanium rings to Titanium Jewelry
Return to Titanium Home Page