The titanium earrings are exactly what are they supposed to be, and more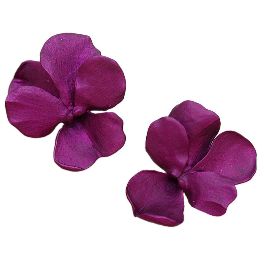 Would you have believed that these are titanium earrings, were you not be browsing a titanium site? When I first set my eyes on this picture, my mind went in all directions, but in the right one. I thought they were some petals of a recently discovered orchid, photographed and posted by some unknown botanist who wanted to share this lovely piece of nature unknown and unbelievable miracle to those less fortunate that don't have the chance of admiring it directly.
I also thought that maybe it was the beginning concept of an adolescent painter that went crazy with the brush and colors, and, as seldom artists do, succeeded in creating a masterpiece that maybe would never reach the public attention it truly deserves.
Yet, usually truth is much less sensational that what our imagination can create. These are titanium earrings. Further research and the explanation beneath the picture assured me that these are indeed "JAR Paris Anodized Titanium Pansy Ear clips", a truly masterpiece of Joel Arthur Rosenthal, or JAR, a jeweler in Paris at the vanguard of contemporary design, who is generally regarded as the first to have made a foray into titanium in 1987, when he created a mauve-colored bangle encrusted with tendrils of gem-set flowers.
Sometimes a picture is better than a thousand words. I seldom think of myself that I have a deep and unique understanding of the
titanium metal.
I have seen so many things made out of titanium; I have read so much about titanium applications in consumer and industrial domains that I couldn't believe that I could find something so striking that would surprise me.
But titanium is truly a miraculous metal. And, this episode assured me that I was right when I said that there is much more to this metal that was not yet discovered and the future will unleash applications that are unthinkable today.
A picture of titanium earrings is enough to demonstrate us that every domain that has been touched by titanium has generated effects more positively and diversely than any other single element in history.
But for a jewelry industry wedded to precious metals, titanium was, and still is to a large extent, an unknown quantity. Not only is it difficult to manipulate because of its remarkable strength, though its lightness helps the designers a lot, especially for titanium earrings – there is so much an ear lobe candy hold, but also the metal flouts every major tenet of luxury.
No rarer than the beach sand from which it is extracted, it lacks the heft and intrinsic value of gold or platinum and does not evoke any cultural traditions, except perhaps for workers in aerospace, high-tech medicine or dentistry, fields in which it has found a niche.
Until now, that is. While gold and platinum still dominate the fine jewelry market, titanium has made inroads at the very highest echelons of the jewelry universe thanks to a handful of world-class designers who have been seduced by its feather weight and kaleidoscopic possibilities.
Return from Titanium earrings to Titanium jewelry
Return to Titanium home page