Titanium flask, titanium flask, can you give me what I ask?
According to backpackers, a titanium flask is an elegant solution to solve the critical problem of keeping yourself hydrated while strolling through the mountains. Or the fields, or the dessert, or the hills, depending on what your particular choices are, regarding to sightseeing.


Regarding production technology, titanium metal flasks are made based on
thin titanium foil.
The actual manufacturing process is probably more spectacular than the actual finished product. The production of titanium foil is a highly advanced industrial process and
laser welding titanium
is a challenge in itself.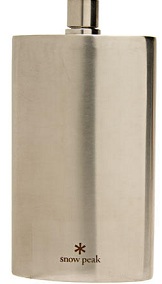 The flask made from titanium, as a commercial product, was conceived based on some fundamental concepts. The need of a metal flask, used to store small quantities of liquor was firmly established in the minds of consumers during the prohibition period. Although that set of laws have long been appealed, the metal alcohol flask remains throughout this day a powerful symbol, representing a cool accessory, even for people that are not so keen on weight optimizing such as hard-core backpackers.
For the latter, the flask is not just another cool gadget to buy and then let the dust cover it in some box in the garage. It is said that nothing restores some of the energy better than a quick sip of liquor after a hard, rainy and cold day spent climbing the mountain trek. And mountaineers have some really strict laws regarding the things they pack for their trips. One of this states as follow:"Do not pack it, unless you're absolutely sure you're going to use it. If you do pack it, make sure it's as light and tough as it can get".
Having established that the flask is an absolute must for backpackers, the producers sought for the solution that could provide the lightest and toughest possible result. The final product was titanium flask.
However, the field feed-back is not always equal with the information presented in the commercials. Titanium flasks are light and tough. Well, everybody knows that any titanium product tends to end in this way, no matter how he was originally designed.
On a more particular basis, it is also said that titanium flask have the distinct advantage over their less exotic (and much cheaper, none the less) counterparts, of not lending the specific metallic taste to beverages that are stored, and subsequently imbibed from them.
Fact is that no ordinary metal reacts with beverages that are usually fit for human consumption. No matter how strong your "poison" is, if it doesn't actually really melt your guts, it won't react with any metal. I assume your thinking a modern, shiny, new flask, and not the old rusty thing that you discovered in your grandmother attic, and learnt that it belonged to an uncle that actually used it during the Prohibition.
The simple truth is that the metallic taste you feel in your mouth is not coming from the drink, but rather from you actually touching the container with your lips and tongue. You taste metal, because you touch metal. And it's going to be exactly the same for every metal flask, unless you find some way to drink the liquid without actually touching the recipient. The process is not as impossible as it first seems, if you consider it for a minute.
The second aspect that you should consider it is regarding the actual "toughness". Remember, we're talking of really thin titanium foil – less than 0.009 inches. That's a lot of zeroes out there. Don't expect your titanium flask to stop a bullet – although it might. And don't expect it to be intact after a 100 pounds boulder drops on it. Titanium can take many things, but not everything.
At the end of the day, if you consider all of the above, a titanium flask is really not a bad choice for a metal flask. It may costs more than what you're prepaid for a recipient that can hardly hold five or so shots of liquor, but do remember that its indestructible design will make a great impression and cool addition to your back-packing stories.
Head's up!



Titanium Water Bottle
Return from Titanium flask to Titanium Products
Return to Titanium Home Page