Titanium money clip - the flagship item of the titanium jewelry sector
The titanium money clip has been designed to be a viable alternative for the common porte-feuille - this being the actual French name for wallet. The primary advantage of money clips over wallets is the lesser weight and burdensomeness (strange word!). They are perfectly suited for a sportier, casual feel, suited for activities which don't require you to take every credit and membership card, or the driver license, or your check-book, or many other rather useless items that you carry in your wallet until the usual weekly or monthly cleanup.
In the picture below you can see the classic model, a simple folded titanium band that valiantly holds some green notes.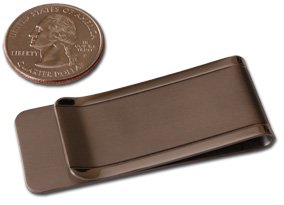 The money clips made from titanium shine among other similar products because of the properties of titanium metal. Generally, a money clip main issue with is the deformation that appears during regular use. The most widespread manufacturing technique for money clips is the pretension design of the folded metal band. In this way, a money clip can firmly grasp on the bills preventing them from slipping.
Of course, generally there is a different number of notes that are kept in at each occasion during a normal lifetime of the product, resulting in different thickness of what a money clip must hold. In time, other metals deform and are unable to return to the initial state, tending to keep the widest stance encountered, thus becoming susceptible of being somewhat loose when there are only a few notes.
Obviously, a titanium money clip doesn't experience this kind of downside. It can safeguard your hard earned money longer and better than anything else.
A second reason that determins designers to choose titanium for money clips is the rainbow patterns that are available with different oxidizing states of titanium, as you can see below. This offered the chance of evolving a rather common item into a very beautiful accessory, moving titanium money clip from utility to jewelry category.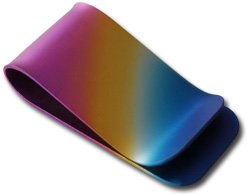 But there is so much more than can be done with titanium in money clips, more than a simple titanium folded band. Enter TacTiClip, the Dreamliner of money clips. Steve Pappas, the designer and future producer of this modern titanium money clip has not only envisioned a bold and futuristic vision for money clips, but has also done this having a mind set on the specific and unique caracteristics of titanium metal.
The result? The World's Strongest Multi-Use Clip, a very special design, both multi-faceted and complex, yet brilliantly simple, as any great idea usually is. The project has been funded succesfully in KickStarter and it's probably in the mass marketing stage right now.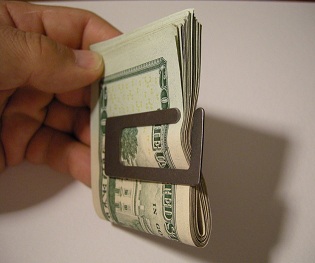 Titanium price and, more important, the mystical aura that titanium has gained during the years of its use, has enabled the possibly for marketing money clips made from titanium metal as luxury items. This effect has been helped by the slimness of the money clip compared to the wallet.


The slimness allures to more eccentric uses, to certain special occasions. Just imagine a luxurious restaurant, a very special evening. You wear a very classy Italian black (or possibly titanium grey!) suit. You carry nothing, except the keys to your Ferrari – though you may have left those at the bell boy. You do need some notes, should anything unexpected happens. The lady you're accompanying would not have anything else protruding from your chest pocket.
Nice, isn't it? It certainly resembles a lot like James Bond, who is also reported of owning a money clip with a lot of gadgets used in his shrouded jobs and which allowed him a lot of deftly tricks to make ends meet. I don't know if it was a titanium money clip, but it definitely should have been.


Return from Titanium money clip to Titanium jewelry
Return to Titanium Home Page