Titanium plates and titanium sheet make for a powerful combo in industrial and commercial applications
Titanium plates are secondary mill shape flat structural blocks produced by titanium ingot smelters for further processing into industrial or commercial products.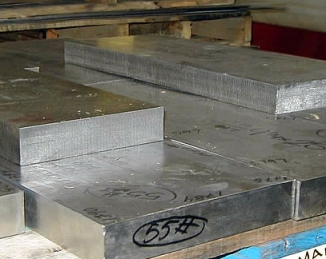 The difference between plates and titanium sheets is given by the thickness of the material. If the thickness is greater than 0.25 inches, it is called a plate; otherwise it is referenced as a titanium sheet. If the thickness is lower than 0.05 inches, then the piece is usually called a titanium foil.

The manufacturing process of titanium plates and sheets is similar with those used for other metals, including hot and cold forming, flat rolling an extrusion. Due the special precautions required because of the critical titanium reactivity with oxygen rich environments which happens at high temperatures, cold forming is preferred.

One of the most common uses for titanium in form of plates is in heat – exchangers, especially for heavy corrosion environments, marine applications or in chemical industry, where titanium corrosion resistance is critical.

On the most exotic side of titanium applications, titanium sheets are the main constituent of personal and vehicle armor. I don't think that should come as a surprise, due to the toughness of the metal and the lightness caused by the low titanium density.

But the most known use for titanium sheets is in medical industry for different titanium implants. Titanium increased biocompatibility capabilities and hypoallergenic properties make the metal an ideal solution. Titanium is the only known metal that allows bone growth to adhere to the implants.

Since titanium is non-ferromagnetic, patients with titanium implants can be safely examined with magnetic resonance imaging diagnostic equipment.

Titanium sheets can easily be fully adapted to the contour of the bone that is undergoing surgical reconstruction. Titanium screws can be anchored tightly into bone and resist loosening.


---
Titanium plates price and supply locator

Usually titanium is quoted by weight and price has been known to vary between 3 and 6$ per pound. A more detailed analysis of titanium prices can be found elsewhere on this site.

Titanium sheets and plates, along with titanium bars, rods and billet are the main products of primary processing of ingots and are available at almost every player of the industry.


Return from Titanium plates to Titanium Industries
Return to Titanium Home Page